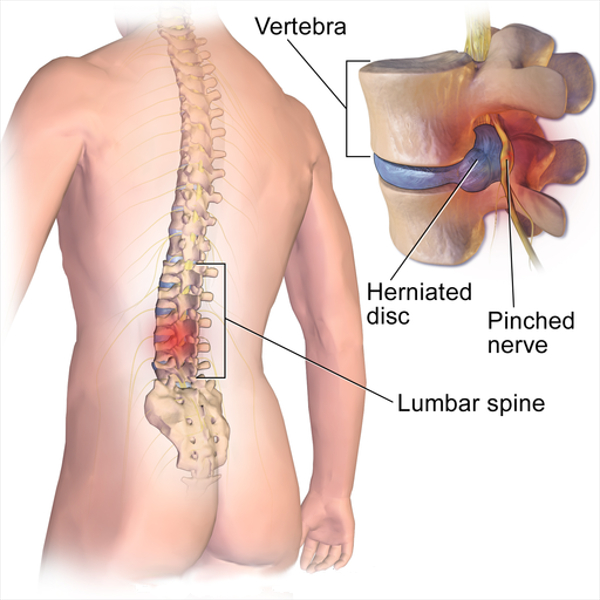 19 Apr

The truth about disc surgery

Microdiscectomies seem to be the rage lately so of course I need to comment on why I am not a fan in most cases of herniated discs.

I see it as an extension of two bigger problems:

-lack of personal responsibility for poor choices and poor spinal health

-lack of knowledge and research

Let's give this some background. Generally performed for herniated/bulged/slipped/torn spinal discs, this surgery is a 'minimally invasive' way to clean up the bits of disc or the discs' inner liquid contents that have 'herniated' or 'bulged' out of the center. They call it 'minimally invasive', which is as much of a misnomer as calling a root canal a minimally invasive dental surgery.

The 'invasive' part refers largely to how big the incision is.  If you think being right up against your spinal nerves, all the nerves that control all of the muscles of your legs, is 'minimally invasive' think again. It's not the length of an incision that makes a surgery invasive or how many muscles it goes though. It should be how close it is to getting in harms' way…and spinal surgery is right up in the face of harms' way no matter how you look at it.

Besides the obvious risks that brings up, microdiscectomy is an effective way to treat a herniated disc. Post surgery, most people feel immediate relief. The problem is, it is likely to return. In fact, it should not be considered for most people.

So then why is it? And if it works, why is it a poor choice?

First let's discuss why you may decide to have it:

-most spinal surgeons will tell you to do it; after all there is no money and no fun in telling you to go to therapy (lack of knowledge)

-you don't have a good therapist (lack of knowledge)

-you are not listening to your therapist (lack of accountability)

Now let's talk about why it's almost always a poor choice. (I say almost always because the one time it should be performed without a doubt is if the patient is already experiencing 'drop foot' or loss of quadriceps control). If you don't know what these two things are, you are likely making a poor choice!

Ok, so here are the facts. On follow -up the majority of patients feel substantial relief. It's like there was a pebble in your shoe for some time and someone went in and took it out. Ahhhh relief!

Ok, so why is this bad? It's not, short term. The issue comes a year, 2 years, 5 years and so on down the road. So the pebble was taken out of your shoe and now you dont feel the pain from it. Great!  But that's the only factor that changed. It gave relief, yes. But by itself it is not a long term solution. It just took the pebble out. It didn't prevent you from getting new pebbles and it didn't teach you to fix why you get the pebbles in the first place. So off you go after surgery feeling good and going back to walking through gravel. Its a matter of time before symptoms come back if you do not address the real problem.

In fact, the recurrence rate of a herniated disc is up to about 20 percent in many studies that review the literature. What's worse is on long term follow up about 25% or in some studies up to 50% of patients who have undergone this procedure will see their back pain return even if the disc doesn't reherniate. In addition, patient satisfaction tends to diminish every year, the first year being the highest. It can drop to only 25 % or less after afew years. Those are poor outcomes for a surgery that likely could have been avoided in the first place. Having even a 1 in 4 chance your pain will return is poor odds.

Back pain and herniated discs pretty much go hand in hand. Think of it this way. Your back has too much pressure. Poor posture, weight gain, lack of flexibility and spinal mobility, lack of core stability and endurance and too much overload like hours sitting at a desk, etc….this pressure causes pain. Long term pain and pressure causes a herniated disc. It's just a sign that the pressures were there for a long time. So even if one doesn't have a herniated disc return they could surely, and normally do, see a return in their back pain. This is because the stressors were left unchanged.

The truth is, if not for lack of knowledge, most people end up having surgery because they are not willing to make short term compromises and they are stubborn about changing their lifestyle.

A real course of physical therapy involves about 6 weeks of appointments, 2-3x a week, AND a stretching and stabilizing program several times a day at home, with concurrent severe lifestyle modifications in the short term.  There needs to be true consistency, not missing appointments often and not just showing up to a therapy appointment when it feels unbearable or stopping after 3 appointments because it feels better or is gone. The body does not hold any change that quickly. Nor does it learn that fast or negate years of wear and tear and abuse that quick.

The stretching and core stabilization programs along with the manual therapy will help correct postures, blockages and resistance to good spinal movements that have accrued over years. This doesn't occur in 3 treatments, it cannot occur when therapy is sporadic and actually does not end after the 4-6 weeks of therapy come to an end or when you leave the clinic each appointment. Without being personally accountable for doing your program at least twice a day at home for afew months, the therapy alone has less chance of success. This is why a consistent home program is key. Its annoying, but it does work, and it does avoid surgery.

Sadly, therapy or surgery or not, once you have had one herniated disc you are bound to a lifetime of a stretching/stabilizing regimen. Granted that may only be 5 minutes a day, it must be there. I know, it's intense. But think of it as your back karma from the years and years you've ignored it! A disc issue is not a result of an 'injury' like pulling a muscle. Its the result of chronically poor spine choices.

Here is the kicker…even after a discectomy a home program needs to happen. Why? There is a reason you got that herniation. Your postures, your lack of flexibility, your lack of core stability…it was years in the making and it needs to be fixed and maintained now for life. The surgery does NOT fix this, it is only a temporary solution for low back pain.  Most injuries come and go. But herniations are a sign you are doing something gravely wrong. A surgery does not fix what you are doing wrong.

In fact, research shows that after a discectomy, to keep symptoms from coming back, a course of physical therapy and a regular regimen of stretching and strengthening at home is vital. Studies show it is the best way to prevent a relapse.

So why have the procedure if you need to do the therapy anyway? You are risking spinal injury, general anesthesia, increased scar tissue, recurrence (and a waste of time and money) when you could have just done the therapy from the get-go, made the lifestyle modifications in the short term such as reduced sitting, modifying work outs, losing added weight, standing desks and worst case working from home for a period…and added the daily home routine. In essence your time spent doing these things would have just been the time you had to take off from work anyway to do surgery. And it would have gotten you better quicker and safer with a better (or in some studies same) long term prognosis. Not to mention learning an effective strategy to keep recurrence rate and intensity at a lesser degree and fix the actual reason you get back pain in the first place!!

This way from our analogy you learn how to avoid walking in gravel to begin with… AND make your body's resistance to it greater for when it's unavoidable.

It comes down to taking personal responsibility. Herniations are not random events. There is a reason you got one. If you don't address the reason you will be one of the almost 50 percent who's symptoms return after microdiscectomy. Don't be willing to have surgery because it's the easy way out. Opt for the hard way, because it's honestly the only way that actually works long term.

If you have had a microdiscectomy I strongly urge you to do the physical therapy now and continue with the home exercise program every day to lower your chances of recurrence. Remember: Surgery does not treat the root cause.


If you are considering the surgery, consider instead making a real committment to the therapy and home program for 6 weeks. Ive rarely met someone who did all I asked and came to therapy consistently and still had pain. The patients we see who fail are the ones who are not consistent, don't do their homework, or are not willing to stop doing the things they need to stop doing to heal.

Note to self: you will have to stop doing all of the things you won't stop doing and more when you do surgery, so just do it now and avoid the knife!

You must see that this is not injury, it is a pain pattern brought on by poor choices you make everyday and have made for years.

Truly the only way to keep back pain of most any kind at bay is to 

make a solid commitment to being personally accountable to fixing and reversing your poor choices, not just getting a surgical bandaid.